Featuring
10,000 Gallon LS Rampmaster Modular Lift Deck Jet Refueler
Heavy duty versatility that delivers continuous value
With the 10,000 LS and WD exchange options, the Rampmaster 10,000 gallon refueler models provide flexibility for commercial airports and into-plane agents. Their superior manufacturing and quality allow them to pump 1.5 million gallons per truck per month, year after year, city after city – setting the standard for the industry.
10,000 Gallon LS Refueler
---
Learn more about the Rampmaster 10K LS Refueler
Convenience
Fast Access Lift Platform
The Rampmaster 10K LS is equipped with a lift platform with easy access to hoses and controls.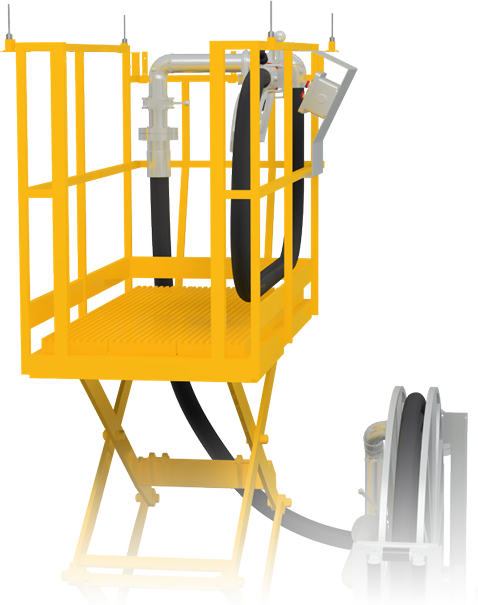 Innovative
Visi Glass See Through Valve
Visi Glass see through valve is the first of it's kind in the industry. Allowing you to view the internals for easy inspection and to ensure no damage to the valve.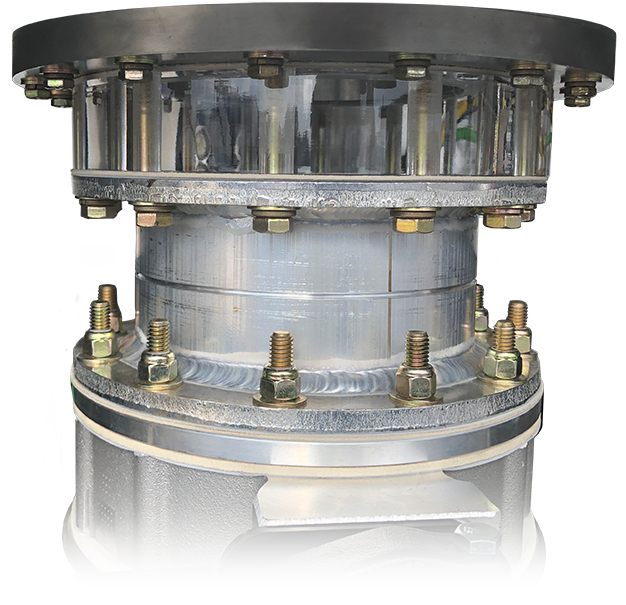 Smart Technology
Engine Management System
Management (Flow Control) System EMS. It removes the complexity of venturi and control valves as well as the waste of a constant fuel burn, replacing it with a patented system of sensors that maintains even pressure in the wing while reducing the load on the refueler engine.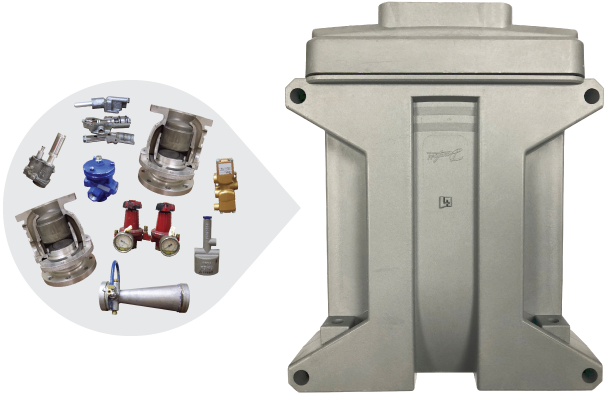 10K LS Specifications
Chassis
Crane Carrier Chassis.
Engine
Cummins Diesel Engine.
Engine Equipment
Engine block heater- 18.7 CFM Air compressor-10 Gallon DEF Tank.
Cooling
927 Front Radiator.
Air Intake
Cummins Filtration Direct Flow.
Exhaust
Single horizontal exhaust system mounted under front bumper with after treatment device.
EPA compliant.
Transmission
4 speed automatic, Allison 3000 RDS transmission with oil cooler.
Incorporates electronic push button shift selector pad mounted in cab.
Rear / Drive Axle
Dana S35-590 / KGI Rear Dummy Axle.
Front Axle
Dana D2000W Dressed.
Suspension
Front – Taper Leaf 20,000 lb capacity with shocks.
Rear – Chalmers 800 Series 80,000lb tandem.
Air Brake System
Front: Cast Iron brake drums Rear: Cast Iron brake drums – Bendix air dryer.
Chassis
110,000 psi yield strength steel alloy frame with reinforcement plates.
60 gal fuel tank.
SAE J844 Nylon tubing fuel and air lines.
Cab mounted entry steps.
Heavy duty steel bumpers with (2) tow eyes.
Battery box with two batteries and shut off switch.
Cab Trim & Accessories
High visibility steel tilt cab.
Hydraulic tilt mechanism, mechanical lock.
Fiberglass front fender extensions.
Black interior trim.
Air ride low back driver seat.
Full foam low back passenger seat.
Rubber black floor mats.
40,000 BTU heater/defroster.
Electric horn.
Instruments
Console type with front serviceable gauges.
Electric speedometer and odometer.
Oil pressure gauge.
Dual air pressure gauges.
Voltmeter.
Engine water temp gauge.
Fuel gauge.
Hobbs hour meter.
Pump/Drive selector lever with indicator light.
Warnings
Low oil pressure lamp and buzzer with shutdown.
High water temperature, lamp and buzzer with shutdown.
Low air lamp and buzzer.
Transmission temperature lamp and buzzer.
Lift Platform
Platform height – 73″ For an Airbus A320 up to 140″ for Boeing 777 and up-gradable to the Airbus A380.
Pumping Control
Rampmaster Engine Management Flow Control.
Filtration
800 GPM 5th edition filter vessel.
Gammon filter differential pressure gauge.
Gammon millipore sampling adapters (one upstream and one downstream of the filter monitor).
Air Eliminator.
Hoses / Reel / Nozzles
One (1) hydraulic rewind hose reel (Single Wrap) with manual rewind.
One (1) 2½" x 50' hose with Whittaker 2½" F-117 underwing nozzle.
Two (2) 2" x 7' deck hoses with Whittaker 2½" F-117 underwing nozzles and 3″ OPW swivels.
One (1) 4″ x 96″ Jac riser hose.
Throttle
High and Low control on lift platform, one speed on side reel.
Defualing
Gorman Rupp 4" x 3" FDF valve and eductor with check valve to prevent backwash to filter.
Metering
Electronic Meter
Digital deck readout / rate of flow indicator.
Control Panels
Side mounted: contains 4" nozzle pressure gauge, fuel-defuel control.
Deck mounted: contains 4" nozzle pressure gauge and high – low flow selector.
Piping
Schedule 5 stainless steel piping.
Interlocks
All underwing nozzles, deck rails, bottom loading valve, and pump/drive selector.
Deadman
Electronic.
Emergency Shutdown
Three (3) quick access shut-offs located at right front and left front module corners as well as on lift platform.
Fire Extinguishers
Two (2) Ansul AB fire extinguishers.
Testing
Refueler is completely flow tested for proper operation of all controls and valves, meter is calibrated.
Tank Warranty
10 years.
Tank Capacity
10,000 + 3% gallons shell full.
Tank Compartments
One (1) single.
Tank Construction
Aluminum, semi rectangular, drop frame, fully baffled .313" aluminum heads, sides, and bottom DOT 406 construction.
Manhole
One (1) 20" diameter manhole with 10" fill, two (2) 2" fusibles, vapor vent mounted in manhole.
Two (2) 20" diameter inspection manholes.
Venting
Betts vent with interlock weather-hood and elbow.
Flashing
Two (2) aluminum extrusions welded and air tested.
Walkway
Aluminum expanded metal walkway inside flashing.
Drains
Two (2) at rear, one (1) at front of tank.
Ladder
Aluminum bolt-on at rear with grip-strut steps and drain through risers.
Sensor Precheck Valve
One (1) Apollo ball valve.
Bottom Load Adaptor
One (1) Whittaker aluminum 2½" bottom load valve Bottom load adapters equipped with brake interlocks.
Static Terminal
At bottom load valve.
Emergency Valve
One (1) Whittaker aluminum 6" emergency valve with anti-splash deflector.
Water Drain Valve
One (1) Apollo ball valve in sump.
Product Level Sensors
One (1) two-stage Whittaker jet sensor.
Tank Mounting
Frame mounted.
Tank Level
Product level gauge.