Innovation that saves
Cost Saving Technology
All Freightliner Chassis (ie 3k, 5k, 7k)
Over $500 A Month Savings Per Truck

5k — Learn More
Freightliner Formula:
1.5gal. Diesel Burn/Hour
x $5.54
x 2hrs. Pumping Time
x 365 Days
Divided by 12 Months
National Average Diesel Cost: $5.54
AAA.COM as of 2022
All Crane Carrier Chassis (ie 10k, 15k, 17.5k)
Over $2,000 A Month Savings Per Truck

10k LS — Learn More
CCC Formula:
3gal. Diesel Burn/Hour
x $5.54
x 4hrs. Pumping Time
x 365 Days
Divided by 12 Months
National Average Diesel Cost: $5.54
AAA.COM as of 2022
Engineered to last and save
Refueler Modularity
A Rampmaster refueler consists of three modules: the power module, the pump module and the tank module. All three of these modules separate easily in minutes for repair, upgrade or overhaul (via an exchanged module). The highly rugged, modular design more than doubles the life of the refueler. At the end of 10 years, the power module can be exchanged by Rampmaster to restore the refueler to factory new specs, performance and warranty. The pump and tank modules are passive and resist wearing out. With a power module exchange, the refueler is revitalized and will pump with new utility for another 10 years at two thirds the original cost, creating dramatically low lifecycle costs.
The Impact of Rampmaster's Modularity on Lifecycle Costs & Profitability is Dramatic!
Let us assume if it were possible, that all truck designs could enjoy trouble-free, 1,000,000 gal./month, ten year lifecycles. Thereafter, capital investment will be necessary to maintain like-new utility for the next 10 years. The key words are: like-new utility. Only Rampmaster truly attains like new utility via power module exchanges to factory new specs and warranty.
The competition has no such modular answer. And because rigid mounted tanks dangerously leak after 5 to 10 years, the like-new utility can only be truly provided by total replacement of competing designs.
Revolutionizing flow control from the inside out
Engine Management (Flow Control) System
With the average refueler truck, the engine runs at high RPMs to pump the fuel while a series of valves and sensors regulate the pressure into the wing. But what if the valves and sensors talked back to the engine and told it when it could run slower to produce the same pressure with less power?
That's the idea behind Rampmaster's revolutionary Engine Management (Flow Control) System [EMS]. It removes the complexity of venturi and control valves as well as the waste of a constant fuel burn, replacing it with a patented system of sensors that maintain even pressure in the wing while reducing the load on the refueler engine. Not only does our EMS system lower your refueler fuel and maintenance costs, it also improves the simplicity and reliability of the entire refueler system.
EMS reduces the pump module to hoses, filter, meter and pipe, obsoleting dozens of maintenance-heavy wearable parts.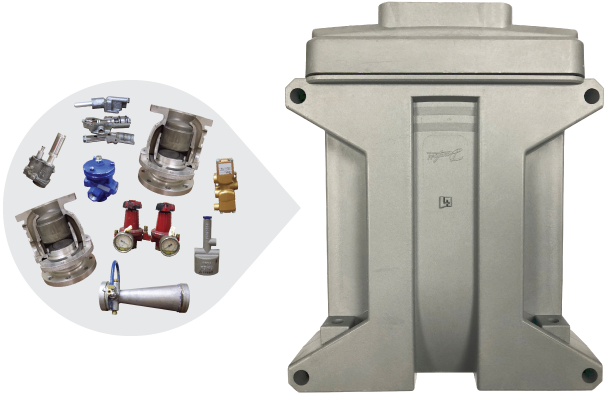 All these parts, along with their functions, disappear into an electric box behind the driver.
We've left in very little to wear out and maintain, greatly extending the pump module's lifecycle and ultimately bringing airlines and FBOs a much safer operating vehicle.
Through the automatic governing of engine speed, EMS delivers benefits such as:
40% fuel savings

63%

EPA emissions savings
46% savings in engine wear
EMS is ONLY available on Rampmaster refuelers. Browse our full line of refueler trucks from 3,000 gallons to 17,500 gallons to learn what the right fit is for your operations.